Hi-Tech Duravent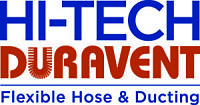 Hi-Tech Duravent is manufactures flexible hose and ducting for many applications including air, fume and dust collection, severe service applications, material handling, high temperature, and vapor recovery to name a few. Hi-Tech Duravent offers the most comprehensive hose and ducting product line in the industry today.
Products Supplied by Hi-Tech Duravent
Contact Edwards Industrial today to learn more about our relationship with Hi-Tech Duravent.
If you know what part you need, request a quote today! Need a part but aren't sure of the details? Submit a photo and we'll help you out.