Alligator Belt Lacing
A style of conveyor belt lacing used for flat, lightweight conveyor belts, alligator belt lacing is an important part of our Conveyor Components and Design lines. Edwards Industrial works closely with our primary suppliers to bring you the best products including alligator lacing belt. Also known as ABL, we offer widths up to 60." Belt thickness ranges from 1/32″ to 1/2″. Easy to install, alligator belt lacing only requires a hammer. The profile of the lace appears to be that of an alligator, hence the name.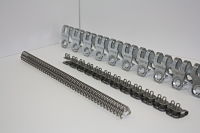 Suppliers of Alligator Belt Lacing
Request a quote or contact us today to get your alligator belt lacing.
Need a part but not sure the specifics? Submit a photo of the part in question to us!