Conveyor Pulleys
Conveyor pulleys are an important part of our Conveyor Components and Design line. Edwards Industrial works closely with our primary suppliers to bring you the best products including conveyor pulleys. These products support, drive, and provide tension for the conveyor belt in a belt conveyor system. The belt conveyor system consists of two conveyor pulleys. One or both are powered, moving the belt and material on the belt forward. The powered pulley is the drive pulley, while the unpowered is the idler pulley.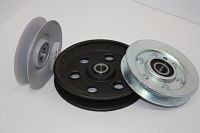 Suppliers of Conveyor Pulleys
Chantland
Omni Metalcraft
PCI
Kofab
Know what you need? Request a quote or contact us today.
Need a part but not sure the specifics? Submit a photo of the part in question to us!