Flat-Veyor Chain
Flat-veyor chain is an important part of our Conveyor Components and Design line. Edwards Industrial works closely with our primary suppliers to bring you the best products including flat-veyor chain.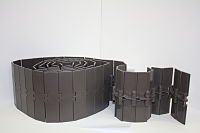 Suppliers of Flat-Veyor Chain
Request a quote or contact us today to get your flat-veyor chain.
Need a part but not sure the specifics? Submit a photo of the part in question to us!