Flexible Couplings
Used to transmit torque from one shaft to another. flexible couplings are an important part of our Conveyor Components and Design and Electrical Motors and Controls lines. Edwards Industrial works closely with our primary suppliers to bring you the best products including flexible couplings, which can accommodate varying degrees of misalignment up to three degrees. Flexible couplings are used for vibration clamping and noise reduction. The inherent functionality of this type of coupling is that it fails before the driving and driven shaft members, saving both downtime and repair costs. The Flexible Couplings are available in inch/metric bores.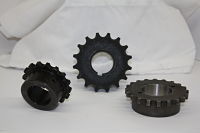 Suppliers of Flexible Couplings
Know what you need? Request a quote or contact us today.
Need a part but not sure the specifics? Submit a photo of the part in question to us!