Motor Bases
As motor mounting systems to mount electrical motors, motor bases are an important part of our Conveyor Components and Design and Electrical Motors and Controls lines. Edwards Industrial works closely with our primary suppliers to bring you the best products including motor bases. They can be simple or complex, fixed or adjustable, and small, medium, or large. Motor Bases are offered in both Nema and Metric Motor mounting systems.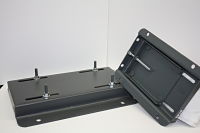 Suppliers of Motor Bases
Overly Hautz Motor Base Co.
Request a quote or contact us today to get your motor bases.
Need a part but not sure the specifics? Submit a photo of the part in question to us!