Table Top Chain
Often referred to as flat top or flat-veyor chain, table top chain is an important part of Edwards Industrials' Conveyor Components and Design line. We work with our primary suppliers to bring you the best products available including table top chain. Used in conveying systems, this chain is available in a variety of materials including steel, stainless steel, and a variety of composite plastics and is commonly found in the food, beverage, pharmaceutical, household, and electronics industries.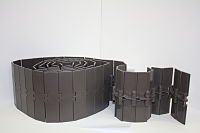 Suppliers of Table Top Chain
Dyna-Veyor
Uni-Chain
Rex
Jeffery Reynolds
Regina
Request a quote or contact us today to get your table top chain.
Need a part but not sure the specifics? Submit a photo of the part in question to us!