Transmission Belting
Transmission belting is an important part of our Conveyor Components and Design and Miscellaneous Products lines. Edwards Industrial works closely with our primary suppliers to bring you the best products including belting.
There are many types of flat conveyor belting used for power transmission. Used in a flat pulley system, where the pulleys are crowned to self-center the belt. Multi-ply leather belting has long been the tradition. There are also a variety of synthetic belts made of rubbers or polymers. Synthetic belts have the advantage of less stretching than leather and are often more economical. Flat belts are traditionally jointed via flexible steel lacing, but can also be made with endless construction.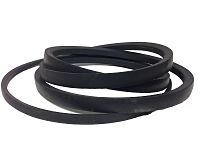 Suppliers of Transmission Belting
Know what you need? Request a quote or contact us today.
Need a part but not sure the specifics? Submit a photo of the part in question to us!