Roller Chain
Roller chain is an important part of our Power Transmission and MRO Supplies lines. Edwards Industrial works closely with our primary suppliers to bring you the best products including roller chains. A type of chain used to mechanically transmit power, roller chain is commonly found in the industrial, automotive, and agricultural industries. It is constructed of a series of rollers held together by side plates. Typically used in low-speed applications and driven by toothed sprockets, roller chain is an economical and efficient solution for transmitting mechanical power.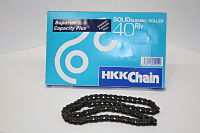 Suppliers of Roller Chain
Request a quote or contact us today to get your roller chain.
Need a part but not sure the specifics? Submit a photo of the part in question to us!