Taper-Lok Bushings
Taper-lok bushings are an important part of our Power Transmission and Electrical Motors and Controls lines. Edwards Industrial works closely with our primary suppliers to bring you the best products including taper-lok bushings. Used in the corresponding T-L sheaves and sprockets, the T-L Bushing system keeps the hubs narrow so the length through base dimension is the shortest of the bushed type systems. The left mount hub design allows shaft mounting close to bearings, keeping the center of the load dimension small while preventing issues with high overhung loads.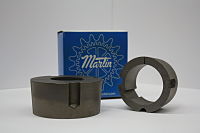 Suppliers of Taper-Lok Bushings
Request a quote or contact us today to get your taper-lok bushings.
Need a part but not sure the specifics? Submit a photo of the part in question to us!