Variable Pulleys
Variable pulleys are an important part of our Power Transmission and Conveyor Components and Design lines. Edwards Industrial works closely with our primary suppliers to bring you the best products including pulleys.
Variable pulleys are adjustable pulleys that allow a belt drives pitch diameter to be adjusted to achieve optimum RPM's in a V-belt drive. They are often used in the HVAC industry to dial in air flow (CFM) without exceeding rated motor amp draw.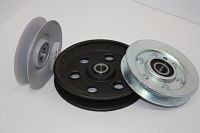 Suppliers of Variable Pulleys
Request a quote or contact us today to get your variable pulleys.
Need a part but not sure the specifics? Submit a photo of the part in question to us!